National Museum of Art, Architecture and Design ( Nasjonalmuseet for kunst, arkitektur og design) Oslo , Norway
Figure Studies, Anders Askevold
Study of six Pigs, Anders Askevold
By Lamp Light, Harriet Backer
The Farewell, Harriet Backer
The Man Made Mad by Fear, Gustave Courbet
Portrait of the Painter Oda Krohg, Christian Krohg
Ane Gaihede, Christian Krohg
Leif Erikson discovering America, Christian Krohg
Mother and Child, Christian Krohg
From Maridalen, Edvard Munch
Thurvald Turgersen, Edvard Munch
Andreas Reading, Edvard Munch
Around the Paraffin Lamp, Edvard Munch
The Frenchman, Monsieur Archimard, Edvard Munch
Two Nudes, Edvard Munch
Winter Night in the Mountains, Harald Sohlberg
Flower Meadow in the North, Harald Sohlberg
Street in Røros in Winter, Harald Sohlberg
Winter at the River Simoa, Frits Thaulow
Winter, Frits Thaulow
Low Church Devotion, Adolph Tidemand
Fine Art Prints | Greeting Cards | iPhone Cases | Tote Bags | Clothing | Lifestyle | Beach ...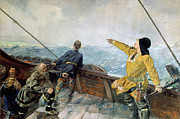 The National Museum of Art, Architecture and Design (Norwegian: Nasjonalmuseet for kunst, arkitektur og design) in Oslo is the national museum of art of Norway.
It was established on 1 July 2003 through a merger of the Norwegian Museum of Architecture, the Museum of Decorative Arts and Design, the Museum of Contemporary Art, the National Gallery of Norway, and the National Touring Exhibitions.[1]
Its directors have been Sune Nordgren (2003–2006), Anne Kjellberg (acting, 2006–2007), Allis Helleland (2007–2008), Ingar Pettersen (acting, 2008–2009) and Audun Eckhoff (2009–present). Chairmen of the board have been Christian Bjelland (2002–2008) and Svein Aaser (2008–present).[1]
Among its collection is one of the versions of The Scream by Edvard Munch.
References
"Nasjonalmuseet for kunst, arkitektur og design". Store norske leksikon (in Norwegian). Retrieved 26 December 2010.
Artist
A - B - C - D - E - F - G - H - I - J - K - L - M -
N - O - P - Q - R - S - T - U - V - W - X - Y - Z
Retrieved from "http://en.wikipedia.org/"
All text is available under the terms of the GNU Free Documentation License