<--- Art Gallery --->
Paintings
Jacob Abels
An Extensive River Scene With Sailboat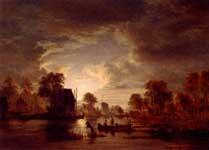 Travellers Before A Forest Lodge
Fine Art Prints | Greeting Cards | iPhone Cases | Tote Bags | Clothing | Lifestyle | Beach ...
Jacobus Theodorus "Jacob" Abels (1803 – 1866) was a Dutch painter.
Abels was born in Amsterdam in 1803. He was a pupil of the animal painter Jan van Ravenswaay. In 1826 he visited Germany, and on his return settled at the Hague. His wife was the daughter of P.G. Os. Between 1849 and 1853 he lived in Haarlem and later he moved to Arnhem. He was especially noted for his paintings of moonlit landscapes. The Museum at Haarlem has works by him. He died at Abcoude on 11 June 1866.
References
Bryan
"Berigten en Nederlingen". De Nederlandsche spectator. 22 September 1866.
This article incorporates text from the article "ABELS, Jacobus Theodorus" in Bryan's Dictionary of Painters and Engravers by Michael Bryan, edited by Robert Edmund Graves and Sir Walter Armstrong, an 1886–1889 publication now in the public domain.

----
Fine Art Prints | Greeting Cards | iPhone Cases | Lifestyle | Men's , Women' Apparel | Home Decor ...
----
Artist
A - B - C - D - E - F - G - H - I - J - K - L - M -
N - O - P - Q - R - S - T - U - V - W - X - Y - Z
Retrieved from "http://en.wikipedia.org/"
All text is available under the terms of the GNU Free Documentation License